Basic kit Duratherm2 DT 6L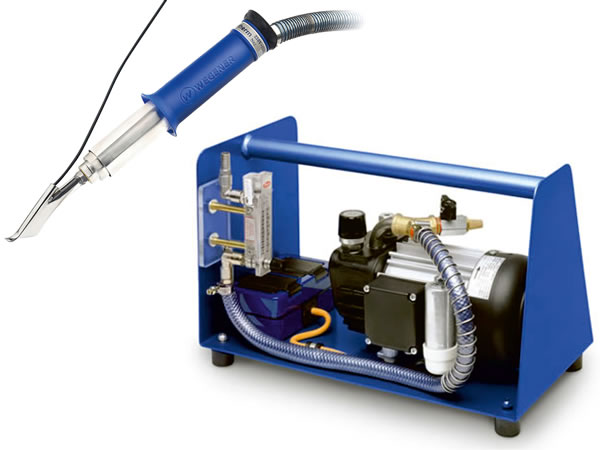 Picture shows optional accessories
Consisting of:
Hot Air Welding Torch Model Duratherm2 with named hose length
Spare heating element 1,000 W
One tacking Nozzle HD, one round nozzle RD 4 mm, one speed welding nozzle SSD 4 mm, one round brush for cleaning nozzles
On-site blower DT 6L for two welding torches (incl. Air volume gauge)
Carrying case
Features:
Built-in electronic temperature setting
Air and electrical supply in one hose
Hose connection angled downwards
Handle including nozzle fully rotable
Strain relief at hose connection
Insufficient air supply – safety disconnect
Heating element protection
Heating element 1,000 W
approx. 450 g without hose
Available with Item no. 34671 (4 m) or Item no. 34672 (8 m) supply
Technical Data
Basic kit Duratherm2 DT 6L
Item no. 34671 (4 m)
Item no. 34672 (8 m)
Power supply:
230V 1/N 50/60 Hz
Power consumption:
1,000 W
Temperature*:
up to 600 °C
Airflow (20 °C) external air supply:
40-60 l/min
Weight welder**:
450 g
Weight blower:
15.4 kg
* = max. temperature deviates depending from the welding tip used.
(We recommend 45 to 60 l/min for welding)
** = without connection lead